The Ronald McDonald House Charities (RMH) provide families with a home-like place to stay while their child is in the hospital. It is founded on the belief that "nothing else should matter when a family is focused on the health of their child – not where they can afford to stay, where they will get their next meal or where they will lay their head at night to rest." RMH Programs can be found in more than 64 countries and regions around the world, one being in our very own, Birmingham, Alabama.
Alabama Graphics partnered with Katherine Billmeier, the CEO of Ronald McDonald House, to refresh the walls of two rooms in the house, as well as one room's ceiling.
Local Birmingham artist, Laura Levie designed and painted the graphics for the walls, and Alabama Graphics produced her art as digitally printed wallpaper and installed it in the house.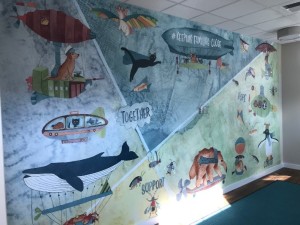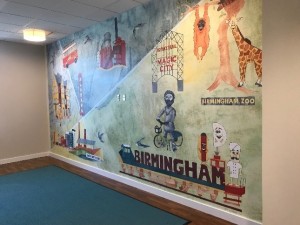 The ceiling graphics were downloaded and installed by Alabama Graphics.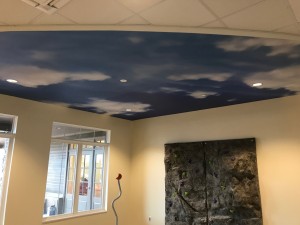 A portion of the graphics were donated to the Ronald McDonald House.
To find out more about Ronald McDonald House Charities of Alabama visit https://www.rmhca.org/
Alabama Graphics has been the state's preferred commercial printing and digital color graphics provider for 60 years. With more than 326 years of combined industry experience, at Alabama Graphics you gain more than a competitive edge in technology and digital printing, you gain a loyal support network, working to turn your projects into reality. From wide-format AEC prints to banners, signs and collateral material, Alabama Graphics is a proven solution for all your printing needs. Learn more at www.algraphics.com.