In 2015, Birmingham, AL was chosen as the site for the 2021 World Games.
The World Games take place every four years, the year following each Olympic Summer Games, and feature 3,600 athletes from more than 100 countries competing for a gold medal in more than 180 events.
Held under the patronage of the International Olympic Committee, The World Games are a part of the Olympic family and subscribe to the same values, but the events of The World Games are ones not included in the Olympics. The World Games also differ in the fact that the host city is never required to build facilities or extend upon infrastructures solely for the sake of The World Games.
In 2017, Alabama Graphics worked with The World Games' logo elements to create, print, and install signs (seen in photos below) in the conference room, reception area, and front doors of The World Games Office in Birmingham.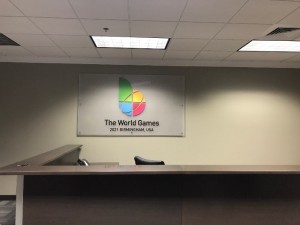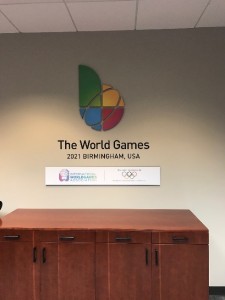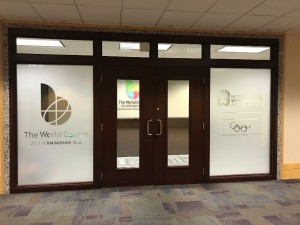 Be sure to stay tuned for more information about The World Games, which will be held July 15-25, 2021.
Alabama Graphics has been the state's preferred commercial printing and digital color graphics provider for 60 years. With more than 326 years of combined industry experience, at Alabama Graphics you gain more than a competitive edge in technology and digital printing, you gain a loyal support network, working to turn your projects into reality. From wide-format AEC prints to banners, signs and collateral material, Alabama Graphics is a proven solution for all your printing needs. Learn more at www.algraphics.com.