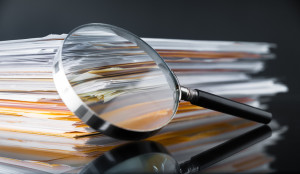 Efficiency. Every business is looking for ways to be more efficient in its processes, especially as the chaos of the holidays approaches. Our scanning and archiving services provide multiple ways to improve your company's filing system, and help your business get through this season's rush!
With Thanksgiving on our heels, it seems everyone has a lot to do and little time to do it, particularly at work. Searching through filing cabinets can be tedious and time consuming. The last thing you want to do is spend an hour looking for a document that was thrown away last year! Using our digital filing system reduces time and makes it easy for employees to find what they are looking for by using a simple keyword or phrase.
Also, as we near the holiday season, many employees will be taking time off to be with family, meaning they will work from various places and may not be present in the office. Having only physical files limits employees when it comes to working remotely, opposed to having a digital system where files can be shared regardless of physical location.
Scanning and archiving also proves to increase efficiency by lowering costs and saving space. This could mean extra money for holiday bonuses! We can scan everything from index and archive photos, to slides and large format items (such as maps, plats and architectural and engineering drawings). Along with eliminating mailing and copying expenses, less clutter will fill your office space. Who doesn't want a cleaner/more spacious office?
Give us a call today and let us help you through this holiday season!
Birmingham: 800-292-3806 • 205-252-8505
Montgomery: 800-463-5610 • 334-263-0529
Alabama Graphics has been the state's preferred commercial printing and digital color graphics provider for 60 years. With more than 326 years of combined industry experience, at Alabama Graphics you gain more than a competitive edge in technology and digital printing, you gain a loyal support network, working to turn your projects into reality. From wide-format AEC prints to banners, signs and collateral material, Alabama Graphics is a proven solution for all your printing needs. Learn more at www.algraphics.com.