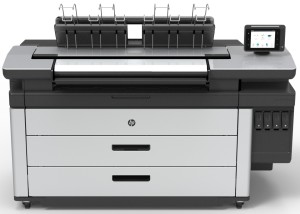 From managing holiday rushes to striving to reach end-of-year goals, fourth quarter is a busy time for many businesses. Equip your business for fourth quarter successes with the HP PageWide Printer. You'll save time and money while enhancing your printing capabilities!
Increase print speeds.
Stop wasting time waiting on documents to print! The HP PageWide printer is the fastest large-format printer on the market providing you with radically faster print delivery. Not only is it capable of printing monochrome and in color, but it also enables you to print up to 30 D/A1 pages per minute, and can deliver mixed monochrome and color sets in half the time. Other time-saving features include an ultra-fast processor, native PDF management and HP SmartStream software.
Streamline your workflow.
By eliminating manual steps and reducing downtime, utilizing the HP PageWide will also streamline your workflow. With the printer's consolidated monochrome and color solution and its innovative cloud-based support that provides self-monitoring, proactive alerts and automatic maintenance, you'll be able to skip those tedious, and sometimes time-consuming steps still in your workflow.
Reduce operation costs.
Investing in the HP PageWide Printer will save you money. Equipped with long-life printheads and high ink efficiency, the HP PageWide printer enables you to save up to 50 percent in total production costs!
Enhance document quality and expand print size capabilities.
Print quality is NOT compromised with the HP PageWide Printer—it's enhanced! The HP PageWide technology prints crisp lines, fine detail and smooth grayscales that easily beat LED. Likewise, the HP PageWide pigment ink is specially designed to provide reliable and dependable operation with HP PageWide printers and to produce high-quality, moisture- and fade-resistant documents that feature vivid colors and dark blacks. In addition to providing high-quality prints, the HP PageWide Printer can print virtually any project. From GIS maps to point-of-sale posters as large as 40 inches wide, the HP PageWide can print it with ease and excellence.
Alabama Graphics is not only a certified reseller of the HP PageWide Printer, but we also provide top-of-the-line equipment services, including installation, supplies and maintenance. Call us today for more information on getting a new HP PageWide Printer in your office and check out this FAQ to see how to prepare your space for printer installation.
Birmingham: 205-252-8505 | Toll Free: 800-292-3806
Montgomery: 334-263-0529 | Toll Free: 800-463-5610​
Alabama Graphics has been the state's preferred commercial printing and digital color graphics for 60 years. With more than 326 years of combined industry experience, at Alabama Graphics you gain more than a competitive edge in technology and digital printing, you gain a loyal support network, working to turn your projects into reality. From wide-format AEC prints to banners, signs and collateral material, Alabama Graphics is a proven solution for all your printing needs. Learn more at www.algraphics.com.