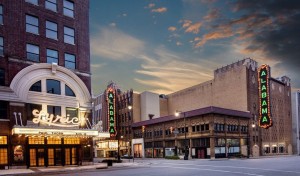 Did you know that the Alabama Theatre once had twin vertical signs on Third Avenue North AND on 18th Street? Recently, REV Birmingham, an economic development organization that strives to stimulate business growth and improve quality of life in Birmingham, announced its campaign to shine a new light in Birmingham. 
REV revealed that Alabama Theatre is a finalist for a national preservation grant called Partners in Preservation: Main Streets. If awarded the grant, the historic theater plans to install a replica of the vintage sign that has been missing since the 1950s. The replicated 60-foot, vertical "Alabama" sign would be installed above the double doors that lead to the stage entrance of the theater on 18th Street North and match the iconic Alabama sign at the main entrance to the theater on Third Avenue North.
Alabama Graphics is excited to work with REV Birmingham and support the initiative by designing and installing 4,000 window graphics around the theater. As you can see in the photos below, these vibrant, eye-catching graphics aim to inform the Birmingham community of the campaign and encourage them to work together to shine a new light in Birmingham.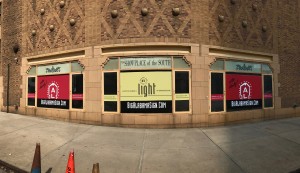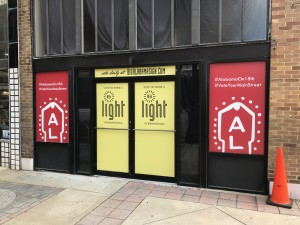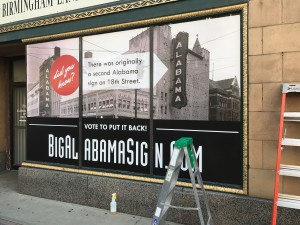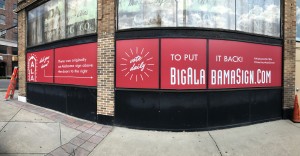 Do you want to help light up 18th Street? Join the Partners in Preservation #VoteYourMainStreet movement by voting for Alabama Theatre daily through Oct. 31. Visit www.BigAlabamaSign.com and share the love via social media using #AlabamaOn18th and #VoteYourMainStreet!
Alabama Graphics has been the state's preferred commercial printing and digital color graphics for 60 years. With more than 326 years of combined industry experience, at Alabama Graphics you gain more than a competitive edge in technology and digital printing, you gain a loyal support network, working to turn your projects into reality. From wide-format AEC prints to banners, signs and collateral material, Alabama Graphics is a proven solution for all your printing needs. Learn more at www.algraphics.com.