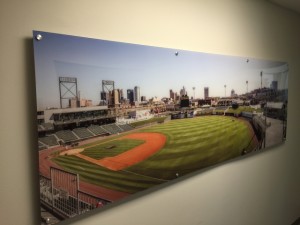 Though presentation boards are extremely effective for one-time use, they are typically not sturdy enough for long-term applications. If you're looking to make a long-term impact with your next indoor display, a rigid display is the graphic solution for you! Made with high-end mounting substrates, rigid displays are indoor graphics mounted to a rigid, non-flexible substrate.

Rigid Displays are commonly used for applications such as visual merchandising displays in retail stores, trade show booths, restaurant menus, indoor signage and for other long-term indoor displays. As with most products, DCX also offers economy, standard and premium options for Rigid Displays. Check out a few projects Alabama Graphics has completed for clients below! You'll be surprised at how many interior graphics you see are actually rigid displays!
For Milo's Hamburgers, we produced these vibrant and easy-to-read menu boards.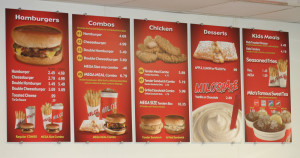 This Hunter boot display in Gus Mayer is also a Rigid Display.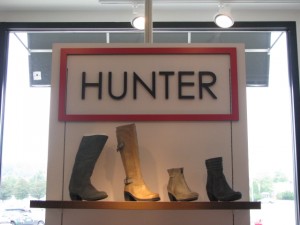 Samford University presents a few facts about its history, enrollment and campus life using Rigid Displays.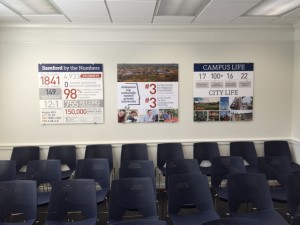 Rigid Displays can also be used for interior directional signage. Check out these maps we produced for Faulkner Law in Montgomery, Alabama.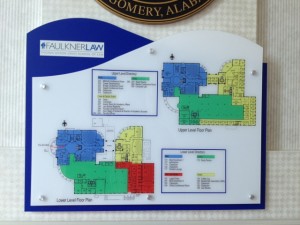 These are just a few ways to utilize Rigid Displays in your store, restaurant or building. The Alabama Graphics team is here to help you determine your graphic needs and find a customized solution that fits with your space, budget and design/aesthetic goals.  Give us a call today to learn more about the Rigid Displays we could produce for you!
Birmingham: 800-292-3806 • 205-252-8505 | Montgomery: 800-463-5610 • 334-263-0529
Alabama Graphics has been the state's preferred commercial printing and digital color graphics provider for 60 years. With more than 326 years of combined industry experience, at Alabama Graphics you gain more than a competitive edge in technology and digital printing, you gain a loyal support network, working to turn your projects into reality. From wide-format AEC prints to banners, signs and collateral material, Alabama Graphics is a proven solution for all your printing needs. Learn more at www.algraphics.com.