Window graphics are a very popular solution for retail, restaurant and business storefronts. They open a whole new world of promotional opportunities by transforming glass doors and windows into prime advertising space. Though the advertising industry is constantly changing, traditional advertising methods, like window signage, will always be beneficial, especially in areas that receive high foot and/or drive-by traffic.  In fact, we like to call them the "local traffic graphic."
If you're interested in creating window graphics for your storefront, there are a few factors to consider:
1. Graphic type.
When designing and installing window graphics, it's essential to consider what material would best fit your storefront's needs. For instance, a window perf is usually a full-coverage graphic that creates a vibrant, eye-catching display on the outside, while not obstructing the view from the inside. Solid Vinyl provides a more opaque graphic, but is usually more cost effective. Window perfs can be used for full coverage graphics or as floating window images. On the other hand, vinyl letters, which are individually cut letters or logos, provide a simple solution for displaying business names, logos and operating hours, and typically do not obstruct the view through the window.
2. Graphic opacity.
Graphic opacity for window perfs refers to how big or small the holes in the material are. The larger the holes, the move visibility from inside. The smaller the holes, the sharper the graphic will look.  The beauty of window perfs is that you can see out the window from the inside, but passersby can't see in. Instead, passersby can view the design, photos, text and/or logos displayed on the installed window graphic. When ordering window perfs, you can specify the opaqueness you prefer.
3. Desired duration.
Before choosing a window graphic, determine how long you'd like to display your window graphic and let us know. The length of time you expect to use the graphics impacts the material we use, and sometimes even the installation process. Please let us know if you plan on the graphics holding up for a few days, a few months or even several years. Because window graphics can be installed temporarily, they are also commonly used for seasonal window décor.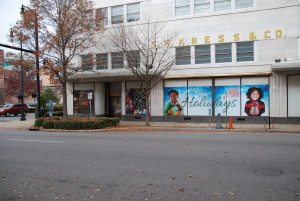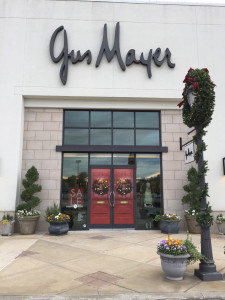 4. Sun exposure. 
The amount of sunlight your storefront endures can also impact which material is used. Lamination is an option if the graphic needs to stay up for a very long time, or is in direct sunlight for long stretches of the day. Let us know how much direct sunlight the graphic will be exposed to so we can ensure it remains colorful and vibrant.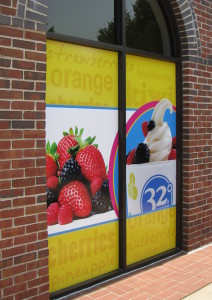 The Alabama Graphics team is happy to help you determine which window graphic solution is right for you. Give us a call today!
Birmingham: 800-292-3806 • 205-252-8505 | Montgomery: 800-463-5610 • 334-263-0529
Alabama Graphics has been the state's preferred commercial printing and digital color graphics provider for 60 years. With more than 326 years of combined industry experience, at Alabama Graphics you gain more than a competitive edge in technology and digital printing, you gain a loyal support network, working to turn your projects into reality. From wide-format AEC prints to banners, signs and collateral material, Alabama Graphics is a proven solution for all your printing needs. Learn more at www.algraphics.com.