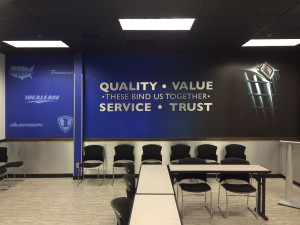 With the help of our high-quality large-format printers, Alabama Graphics can print more than brochures and banners. We often collaborate with interior designers, schools and building managers to create custom wallpapers that provide a simple solution to concealing large, blank walls.  Are you looking to a spruce up your walls? Whatever the space, custom wallpapers are a great solution.
For example, we have worked with the University of Montevallo's (UM) sports department to produce custom wallpapers for its reception area and baseball locker-room. As you can see in the photos below, the wallpapers we designed and installed for UM feature the school's colors (purple and gold), UM's mascot (the falcon), and a photo collage of UM athletes, and teamwork-related phrases pulled from the UM mission statement.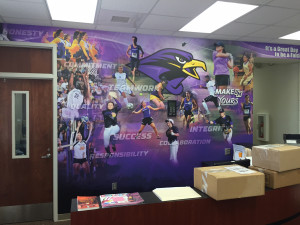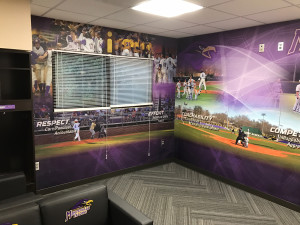 We also revamped a wall in Samford University's athletic department by installing a vibrant wallpaper. Similar to UM's wallpapers, the dark blue wallpaper pictured below features an image collage of Samford athletes and the university's "SU" logo.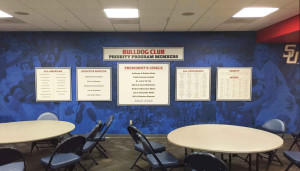 Wallpapers are also a great option for branding and decorating conference rooms. Alabama Graphics helped redesign Southland International Trucks' room into a professional, functional and truck-themed space for them to hold training sessions and present sales pitches. The final room design included multiple graphic features, but on one wall, we installed a large blue wallpaper mural featuring their logo on the grill of a truck and their mission statement in custom cut, raised letters, which created an interesting 3D effect.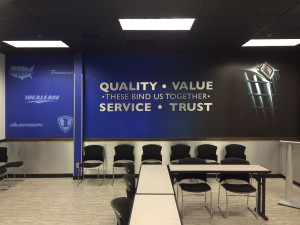 Concealing blank walls can be challenging, but custom wallpapers make it easy. From logos and lettering to photo murals, the Alabama Graphics team is here to help you with graphic design, printing and installation. For more inspiration, visit our gallery of wall graphics and give us a call today to see what we can do for your walls!
Birmingham: 800-292-3806 • 205-252-8505 | Montgomery: 800-463-5610 • 334-263-0529
Alabama Graphics has been the state's preferred commercial printing and digital color graphics for 60 years. With more than 326 years of combined industry experience, at Alabama Graphics you gain more than a competitive edge in technology and digital printing, you gain a loyal support network, working to turn your projects into reality. From wide-format AEC prints to banners, signs and collateral material, Alabama Graphics is a proven solution for all your printing needs. Learn more at www.algraphics.com.