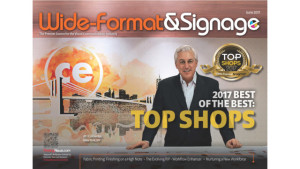 We're excited to announce that for the sixth year in a row, Alabama Graphics was named one of the Top 60 Print Shops in America by Wide-Format Imaging magazine, the premier source for wide and grand-format imaging. Alabama Graphics held the 30th spot on the 2017 list, which recognizes large format printers who exhibit professional and improved efficiencies in the workplace.  We're also proud to be recognized as one of fifteen print shops that have been operating for more than 50 years.
Wide-Format Imaging's June 2017 issue announcing the Top Shops of 2017 noted that the "the 60 Top Shops reported cumulative sales of more than $882M last year, a sizeable increase of nearly 22% versus the previous year." On the other hand, the magazine stressed that several challenges remain that the Top Shops must address in order to stay on top. Many print professionals agreed that commoditization was the industry's biggest challenge. The magazine also asked print professionals how print service providers can best prepare themselves for the industry's future. Embracing the latest-and-greatest, innovative technology landed at the top of most professional's lists.
Year after year, Alabama Graphics strives to be the total solution for our customers' printing and graphic needs. We continue to adapt to the industry's latest technology and marketing trends in order to provide our customers with the best possible solutions. Of the Top 60 Print Shops, Alabama Graphics was the only shop located in Alabama and one of the few located in the southeast. We're extremely proud and humbled by this recognition. We'd like to express our appreciation to all of our clients and supporters. We wouldn't be where we are today without you!
Read more about Wide-Format Imaging's Top 60 Shops here.
Alabama Graphics has been the state's preferred commercial printing and digital color graphics for 60 years. With more than 326 years of combined industry experience, at Alabama Graphics you gain more than a competitive edge in technology and digital printing, you gain a loyal support network, working to turn your projects into reality. From wide-format AEC prints to banners, signs and collateral material, Alabama Graphics is a proven solution for all your printing needs. Learn more at www.algraphics.com.