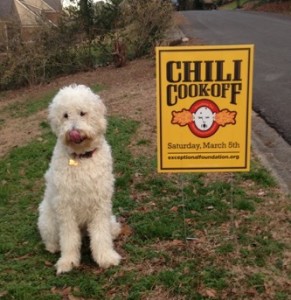 It's that time of year again! That's right, it's time for The Exceptional Foundation's annual Chili Cook-Off! This year's event will take place on Saturday, March 4th from 10:30 a.m. to 3 p.m. in the Macy's parking lot of Brookwood Village in Homewood. Chili connoisseurs are ready to compete, but the question is, are you ready to eat?
The Exceptional Foundation is a 501 (c) 3 nonprofit organization that provides social and recreational activities to mentally challenged individuals in the Greater Birmingham area. Each year, the nonprofit hosts a chili cook-off to raise money to support its programs. More than 100 cooking teams participated in last year's cook-off, which raised more than $300,000. As the nonprofit's largest fundraiser, the proceeds from the event significantly help The Exceptional Foundation provide a second home to more than 400 adults and children.
To promote the 13th Annual Chili Cook-Off, The Exceptional Foundation turned to Alabama Graphics. We printed large banners, fliers, yard signs and posters for the event that you've probably seen scattered around the Birmingham area. Also, because the chili cook-off is moving to the Macy's end of the Brookwood Village parking lot this year, we produced parking signs and a map of the venue to help direct traffic. The graphics, designed by Chris Davis, feature the Chili Cook-Off logo (AKA "Smokey"), which has become easily recognizable by the Chili Cook-Off devotees.
Tickets are $10 in advance or $15 at the gate, and children under the age of 12 get in free. Cook-Off attendees are invited to sample chili from all of the competing teams and to vote for their favorites. So, what are you waiting for? Sign up to compete or purchase a ticket to enjoy all the chili you can eat! For more details and ticket information, visit the event's website or Facebook event.
Alabama Graphics has been the state's preferred commercial printing and digital color graphics for 60 years. With more than 326 years of combined industry experience, at Alabama Graphics you gain more than a competitive edge in technology and digital printing, you gain a loyal support network, working to turn your projects into reality. From wide-format AEC prints to banners, signs and collateral material, Alabama Graphics is a proven solution for all your printing needs. Learn more at www.algraphics.com.