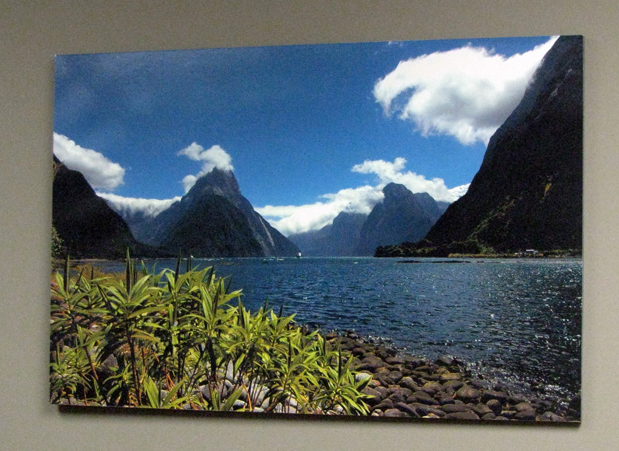 Sure, we're a diversified printer who specializes in architectural (AEC) printing, but we've got a softer side, too. Ever wonder how large, high-quality prints of works of art are made? They're made right here!
Alabama Graphics specializes in Giclee (pronounced, zhee-clay) prints, which are high-end prints for pieces of art. Fine artists and photographers prefer Giclee printing to other printing methods because of the high-quality, rich, true-to-life color, fade resistance and exceptional detail. Alabama Graphics employs the best equipment available for these prints, and can manage canvas sizes up to 6 feet by 8 feet.
A Little History
The term "Giclee printing" was coined by Jack Duganne in 1991. Duganne was a print maker and needed a new name for the large-format, high resolution prints he was creating for fine-art printing. He felt that the terms "ink-jet" or "computer-generated" had a negative connotation, so he coined the phrase "giclee printing" from the French word "le gicleur," which means "to squirt, spurt or spray."
Why Giclee?
When an artist creates a painting, drawing, photograph, or other type of 2-dimensional work of art, he oftentimes wants to make a copy of it for sale. Original works of art can be very pricey, but Giclee prints offer high-quality art at a more affordable price. Many times, the artist will even sign and number the print, making its authenticity and desirability even greater.
At Alabama Graphics, we love working on Giclee prints. Here are a few examples of lovely artwork we've had the privilege of printing: