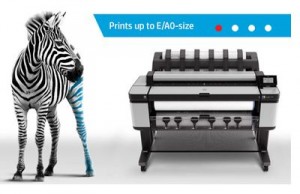 We'd like to introduce you to one of HP's newest Multi-Function Printers, the HP Designjet T3500 eMFP.
The HP Designjet T3500 eMFP is rated the most productive large-format MFP that allows you to copy, print, and scan black-and-white and color jobs with one device. This MFP is built for rigorous IT demands and top security; two top priorities for many companies.
We're excited to offer this highly productive large-format eMFP!
The HP Designjet T3500 has features that any business could benefit from!